I was in a reading roll at the start of this year but when I started watching korean dramas and working more, I slowed down but still I read some pretty amazing books this year. This list was quite easy to make since I have read some phenomenal books.
Here are the top 6 books I've read!
6. WHEN WE COLLIDED by Emery Lord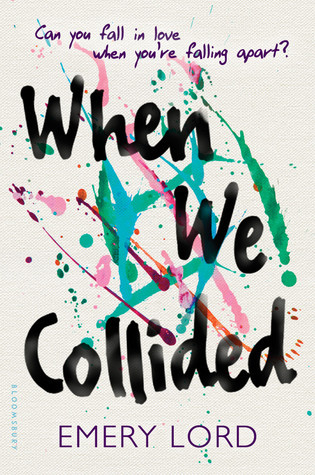 This book is one of the best I've read that surrounds the depression/illness themes. The characters especially Vivi are very alive. The personality of the characters are very distinct and overflowing and I just fell in love with them. The book is not perfect, I had some problems with it but despite of that I enjoyed my experience very much. The ending is bittersweet but it was satisfying at the same time.
5. BLACKMOORE by Julianne Donaldson
    I love the romance in this book. The characters especially the main is very flawed and I loved that very much. I read this books 3 times this year because I just love it so much! The main male character here is just very swoon worthy. Anyway, it was lovely. Henry and Kate I love their childhood friendship that budded into romance and the regency setting made it all better.
4. THE WRATH AND THE DAWN and 3. THE ROSE AND THE DAGGER by Renee Ahdieh

I cannot find the right words to describe my experience with reading this duology. It is just so good. So good. Soooo goooood! The main female character is one of my favorite female characters ever! The plot did not disappoint one bit and it has everything I want in fantasy romance novel. The writing was beautiful. I wish I had more of this world.
2. A COURT OF THORNS AND ROSES and 1. A COURT OF MIST AND FURY by Sarah J. Maas
If I could rate this with 100 stars, I would. This is my first time reading a fantasy set in a fae world and it was refreshing. The first book, ACOTAR was so spectacular. It was so good that I had my worries about the next one but oh boy, the sequel: ACOMAF was outstanding. It was way way way better than the first one. Sarah J Maas definitely knows how to develop a very flawed redeemable character. WIll Herondale used to be fave male character but it seems he has competition in Rhysand. ❤
_______
If you haven't read this books yet, I recommend that you read them. I enjoyed all of them and I am excited for 2017 and all the books I am about to devour!